Well where do we begin? what a whirlwind weekend this has been record numbers of species caught, the weather was superb  and the crack was amazing. It all started off at the booking -in on Thursday night with stories of freshly dug Rag worm being frozen by a certain person putting himself in line for "TIT" of the Festival before we even got started .
Well day one was the start of the species hunt and boats  were setting off from different port all around the island trying to get that advantage to help them become the 2019 Manx Boat Fishing Champions. Kirsty III started at the Northern Port of Ramsey with early success in catching a Bass and a Flounder before moving further South in search of the regular species such as gurnads Pollack and Huss.
Most Boats from Douglas headed South to the Port St Mary area to start their days fishing with every boat catching fish at a steady rate, however Bones II stopped at the entrance of Douglas harbour and caught 5 species before heading South in search of Bigger pray. Sherolyn III, Trampie & Wicked Hen made steady progress through the course of the day with all three boats attaining 19 species by the end of the 1st days fishing. However two of the main stalwarts of Manx Boat Fishing Kirsty III and Merit I went one better by finishing on 20 species and with this making it very tight in the 1st five places, the rest of the boats were not too far behind with all boat well in to double figures.
Day Two:
This is always a hard day just fishing for the heaviest Pollack and Flatfish but it can produce some fun fishing as well.
Once again boats can start from any port and from the start Kirsty III were at the North end of the Island in seach of another Flounder which they got ,but would it be enough to win the day when brought to the scales ?The Isle of Man does not boast a great wealth of large flatties caught from boats so by the end of the day no monsters were at the scales but all bar one flattie was return unharmed back into the harbour waters of Douglas and victory went to Kirsty III.
The Pollack or "Callig " part of this day fishing is a real battle with boat going to all sorts of locations in search  of that one big fish . Manx boat fishing also puts up a prize for the heaviest Callig caught on a lure which adds a little bit of fun to the hard days fishing . No real monsters were at the fore front of this year Festival with Young Gun Stanlee Cooper on his dads boat Kingfisher II taking the honour for the heaviest Pollack of the day whilst Sam Clarke nephew of Bones II skip Jamie Hinchliffe took victory in the heaviest lure caught Pollack.
Day Three:
The final day and all to play for, any of the top seven boats were in with a shout of winning if the days plans went accordingly but the best plans and all that takes no prisoners as we all know. Wicken Hen , Sherolyn III and Trampie had a very hard days fishing and by the end of the day there total only improved by a couple of fish but would any of them figure in the final showdown at the scales.  Kingfisher II made some steady progress but could not get into the top five by the end of the day. Falusi II skippered by ex- Marlin world champion Edwin Jones developed a slight engine problem which may have involved them being towed back to port but "Superman " Gary Bridson Joint Skipper of Merit I boarded the ailing boat and made emergency repairs and Falusi II was back in the game, well done Gary.
The rest of the boats made some headway into trying to catch the two leaders but what would be the final outcome by the time we all got back to port. When the time was up all boat made their way back to Douglas port and to find out who had become the 2019 Isle of Man Champions. There are too pool fish during the species hunt and it is their combined weight that determines the winner if there is a draw would this be a deciding factor  in this year thrilling competition?
At the final declaration it was Merit I who took the much deserved victory by one fish from bitter but good humoured rivals Kirsty III finishing with 27 species to K3's 26 species. Wicked Hen took third place over Trampie by virtue of the heaviest pool fish with both boats on 23 species each, and Sherolyn III making up the top five on 22 species.
It has been worked out that 31 different species were caught during this years Festival  and that is a new Is a new Island record.
81 anglers fished This years Festival not a bad turn out with just a couple of last minute cancelations but we will see them at the next festival I am  sure. I would like you all to appreciate Elas Business Support , Allround Fishing and Kelvins Tackle for all their continued sponsorship which makes this the Premier Boat Fishing competition on the Isle of Man. A special thanks this year to not only for Harbour Control but to the Harbour security team who were helpful with our comings  and goings with us using the cruise ship pontoon, it was a great help.
Hear are the final standing in this year festival:
ELAS BUSINESS SUPPORT SPONSORED 2 DAY SPECIES HUNT
1st MERIT I   27 SPECIES
2ND KIRSTY III 26 SPECIES
3RD WICKED HEN 23 SPECIES +HEAVIEST POOL FISH  
4TH TRAMPIE  23 SPECIES
5TH SHEROLYN III 22 SPECIES
HEAVIEST POLLACK
1ST KINGFISHER II  7.1.375 LBS
2ND TRAMPIE 6.10.125 LBS
3RD  MERIT I 6.6.75LBS
4TH KIRSTY III4.11LBS
5TH WICKED HEN 4.3.875LBS
HEAVIEST FLATFISH
1ST KIRSTY III 1.125LB FLONDER
2ND WICKED HEN 10OZ PLAICE
3RD SHEROLYN III 9.5OZ PLACE
4TH KINGFISHER II 8.875OZS DAB
5TH MERIT I 4.875OZ DAB
HEAVIEST LURE CAUGHT POLLACK
1ST BONES II   6.3.375LBS
2ND KINGFISHER II 5.10.375LBS
3RD MERIT I 5.1.375LBS
4TH KIRSTY III 4.7.125LBS
5TH TRAMPIE 4.6.750LBS.
There will be an article on this years Festival in Saltwater Boat Fishing Magazine which will be with them very soon.
Thanks Jamie
CEO @MBF
here are a couple of pictures from the ELAS BUSINESS SUPPORT SPONSORED EVENT
MICHAEL EMERY WITH A HUSS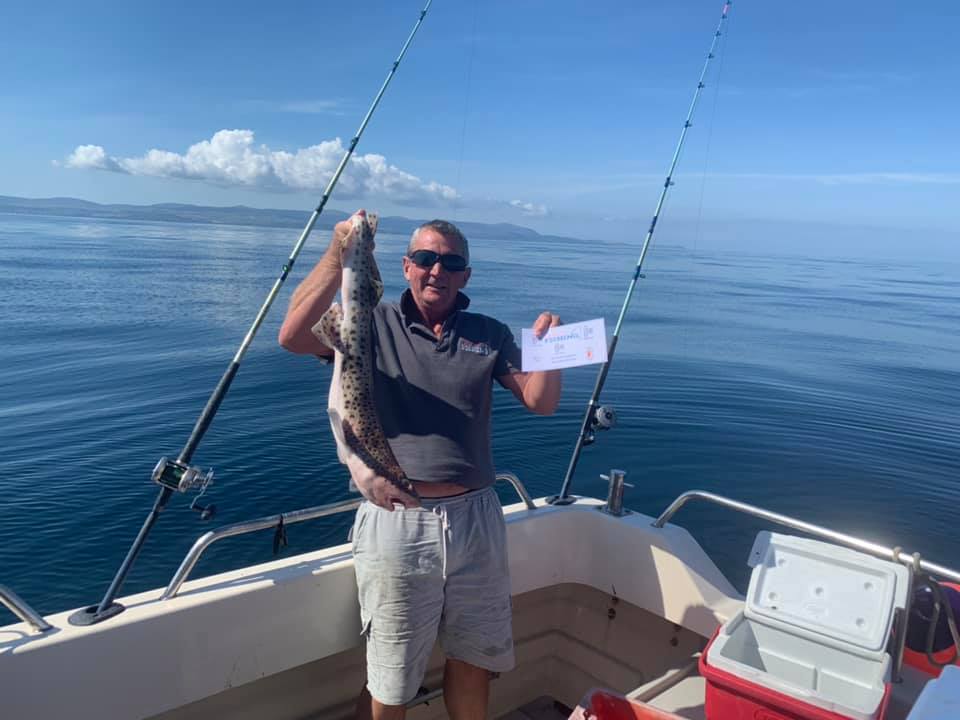 STANLEE COOPER WITH THE HEAVIEST POLLACK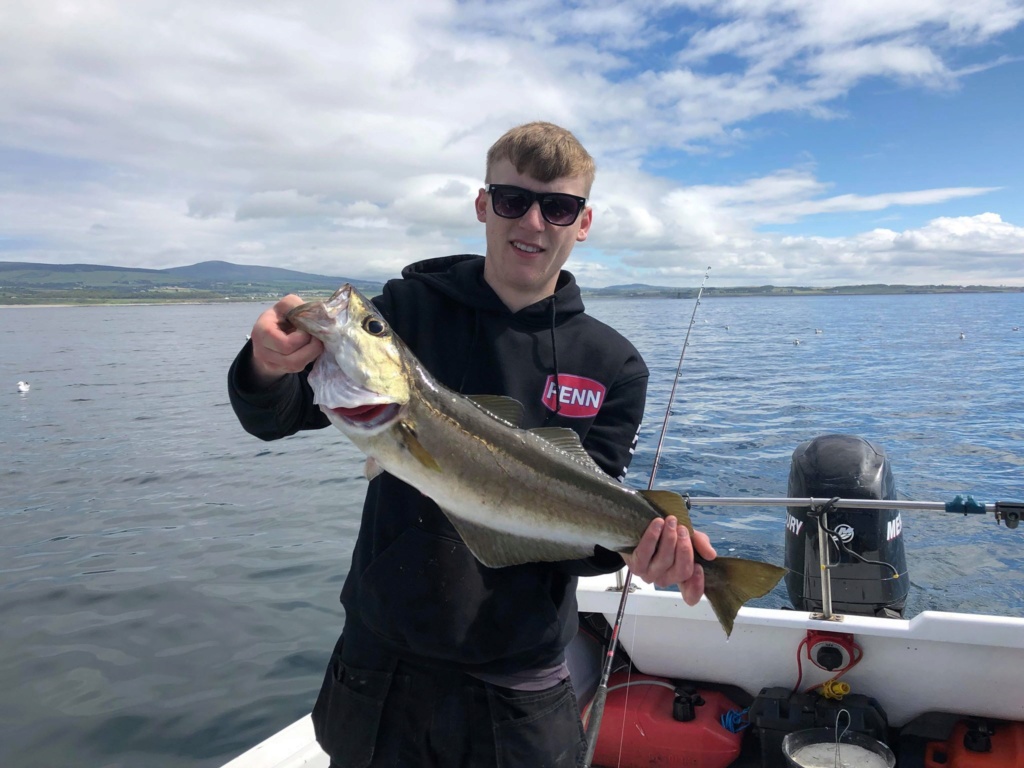 DAVID CHRISTIAN WITH A NICE FISH
SAM CLARKE ON BONES II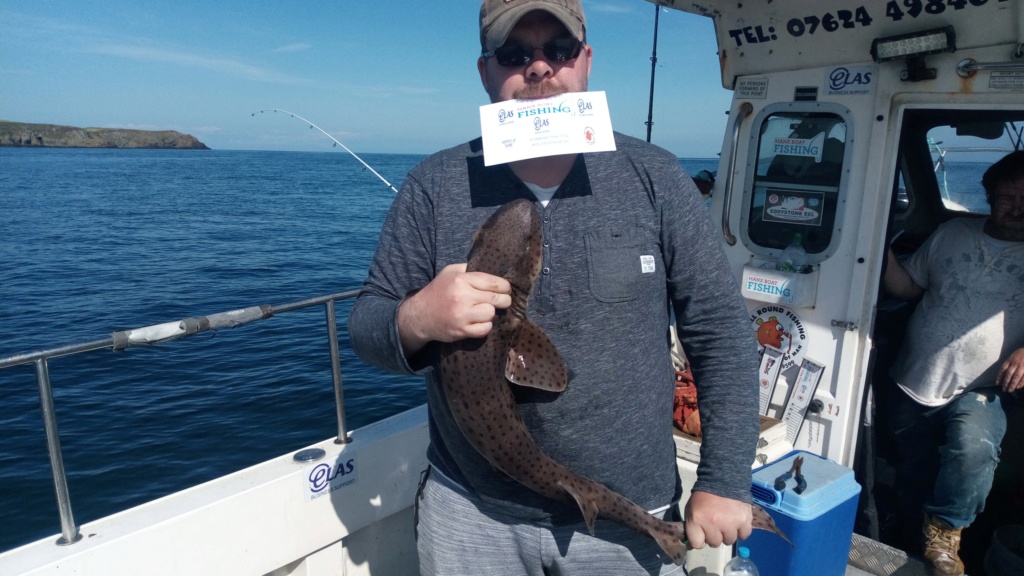 FISHING ALONG SIDE WICKED HEN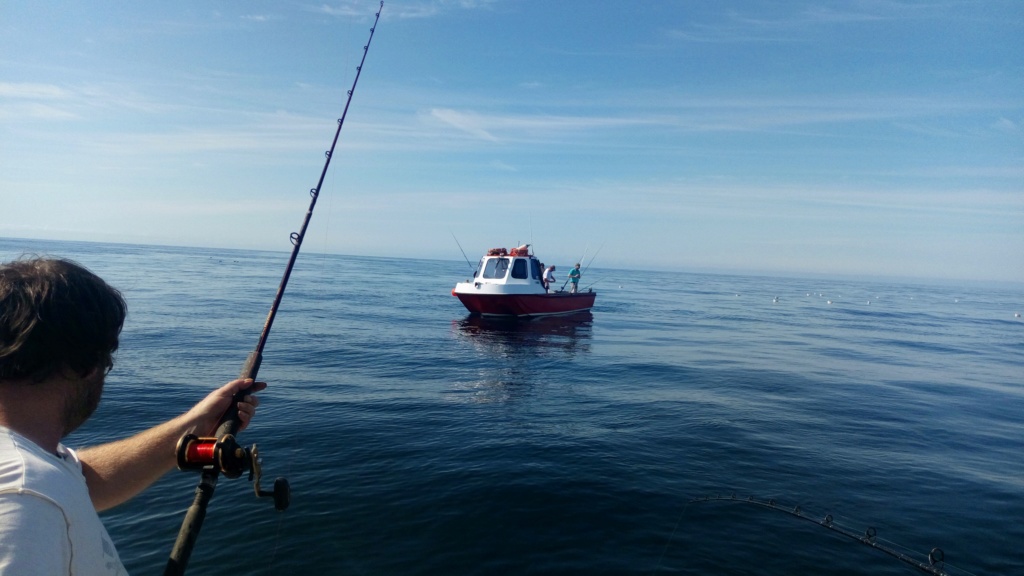 PAUL QUINE NOT QUITE THE FLATTIE WE WERE AFTER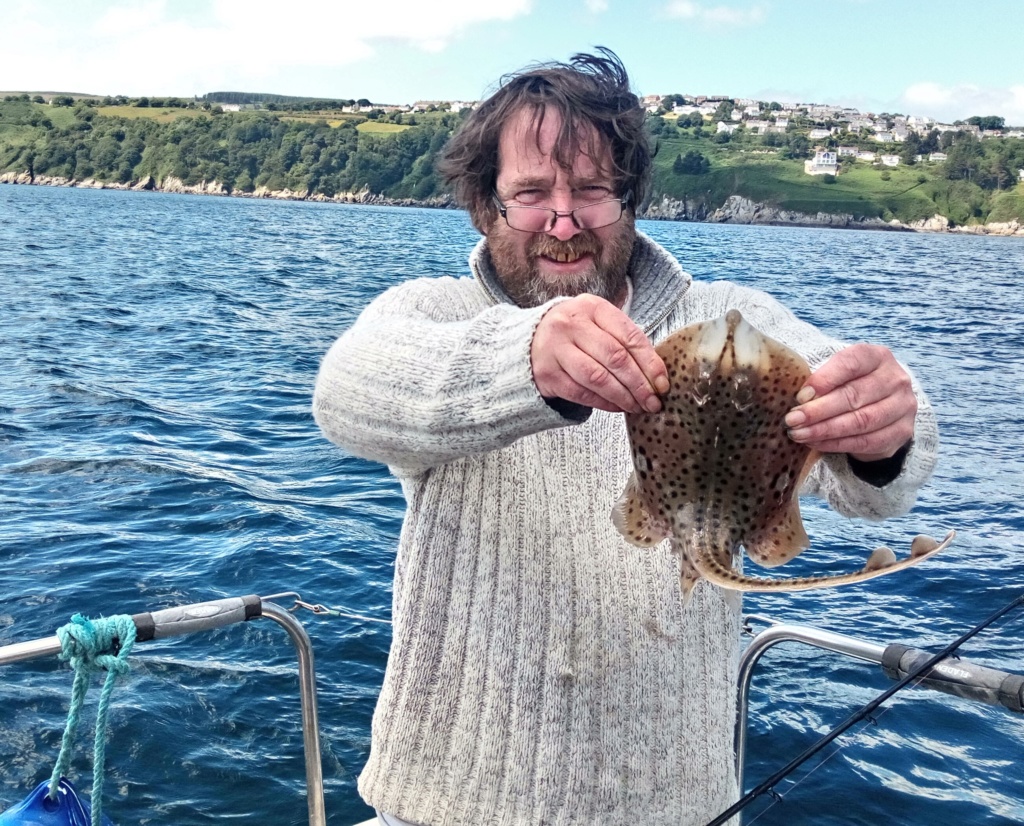 FALUSI II AHEAD OF BONES II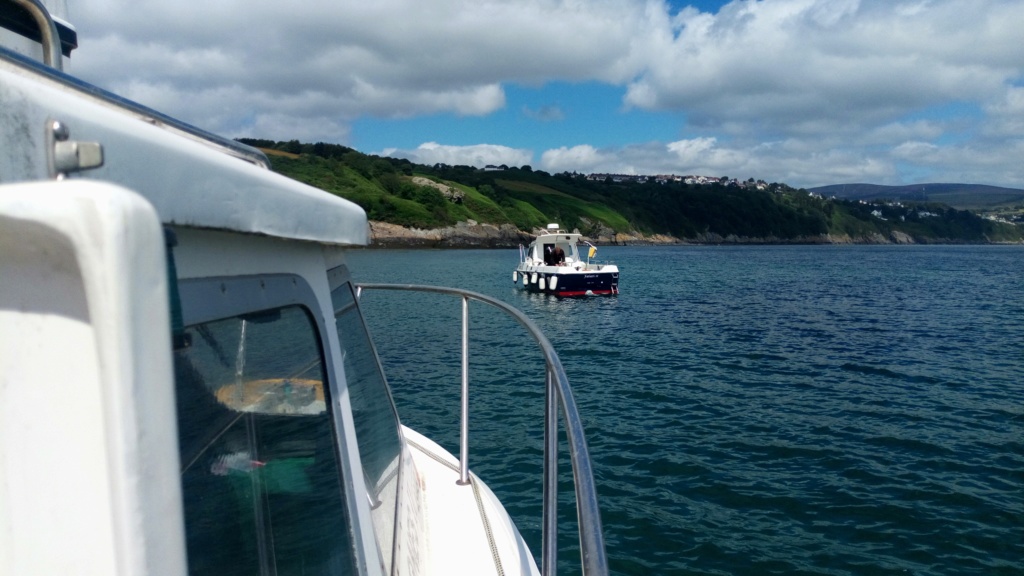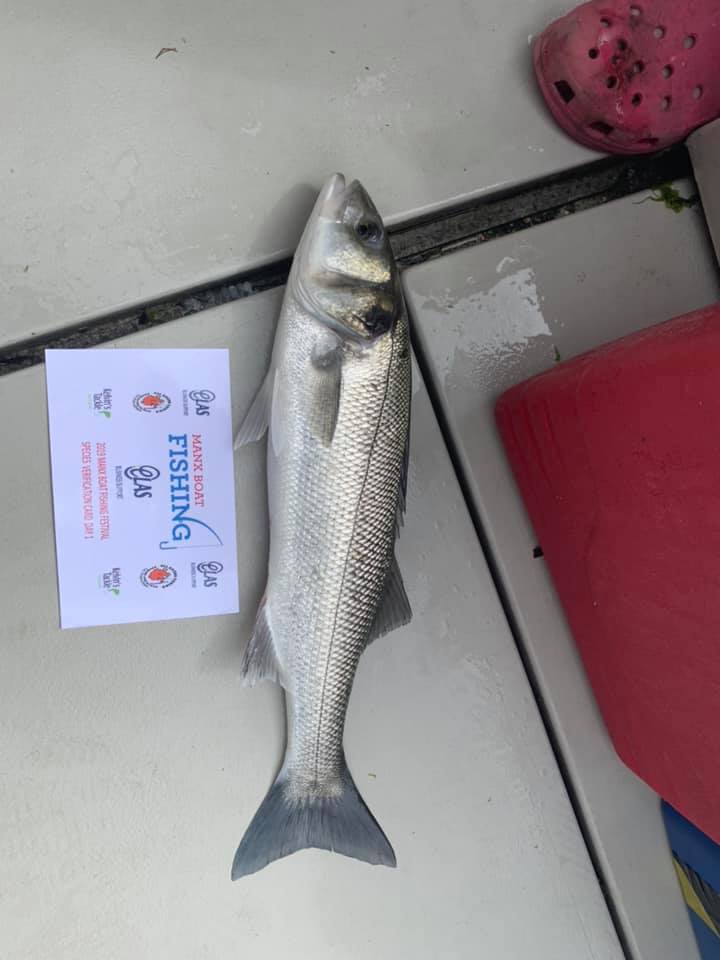 GARY BRIDSON ON MERIT I
ASTRANGE BUT WELCOME DOUBLE FOR LEE GRAHAM
A RARE JOHN DORY FOR MANX WATERS
BASS BECOMING A MUST IN WINNING IN THE ISLE OF MAN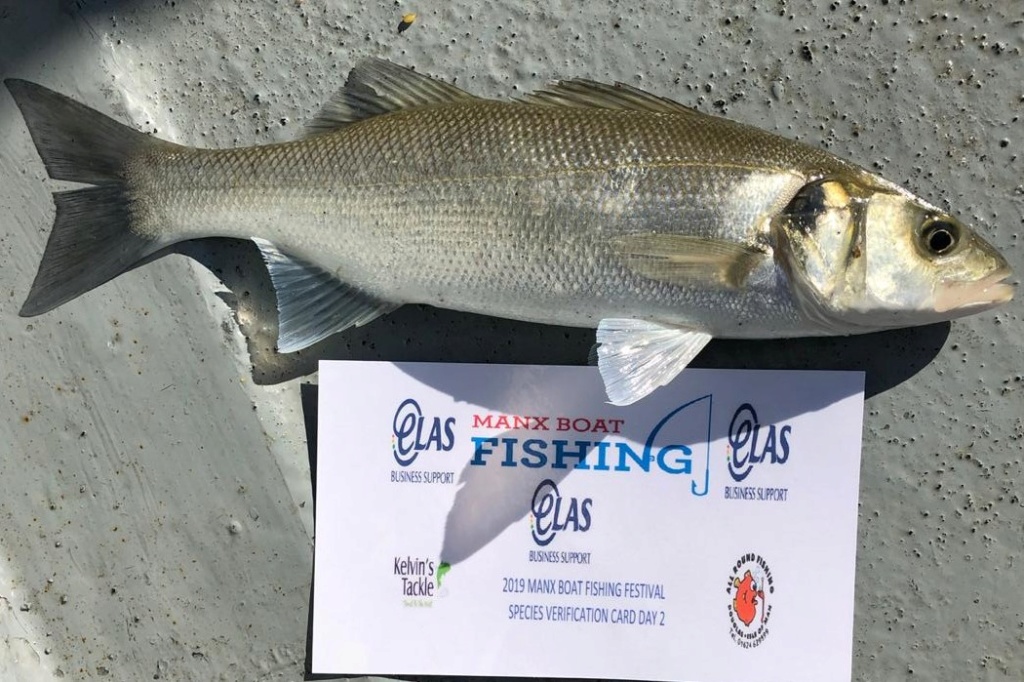 LEE GRAHAM ON MERIT I WITH ONE OF SEVERAL THORNBACKS