The weather was right for a spot of fishing on Bones II 19/05/2019 so off  I went leaving Douglas harbour at around 10:15 am with 1st getting some bait at the back of Douglas Head. This did not take long and with some fresh Mackie and Launce to go with my frozen baits  I was soon heading out into deeper water in search of some haddock.
Fishing got off to a good start with 1st a Red Gurnard and then a Tub in quick succession both taken on a little scratching rig 1up 1down which was working well. On the Big Rod I had what I thought was a Bull Huss the way it was coming up only for it to let go of the bait 1/2 way to the surface , another bite I knew was a Thornback because of the dead weight it was light pulling up a dustbin lid, however once more this let go before being able to see it. Not all bad news on the big rod though with the capture of my 1st Tope of the year but it has to be said it is on the small side.
The 3rd rod that I had out was a two up 5 inch boom trace together with Razor Fish as bait soon had several Haddock on the boat. None of these however were of a size I would keep so all went back to fight another day, during this period the odd small whiting started to appear along with some Grey Gurnards.
Newcomer to the boat fishing world Luke Rollason turned up along side me and fished for the last hour, Luke had been down to Port Grennaugh and had had a nice couple of Ling There, although his mate had lost a good one at the side of the boat . Time was up for us and so we headed back to the port of Douglas where I saw Michael Emery going out to fish the low tide.
Michael Headed to roughly the same location that I had been fishing and he managed along with the normal culprits out there to catch a nice Thorny and a Spurdog just to prove that they have arrived.
I had finished the session with 8 species which were : HADDOCK, TOPE, RED, GREY &TUB GURNARDS, WHITING, MACKIE AND LAUNCE .
Jamie
Here are a few piccys :
Luke and his boat
TUB GURNRD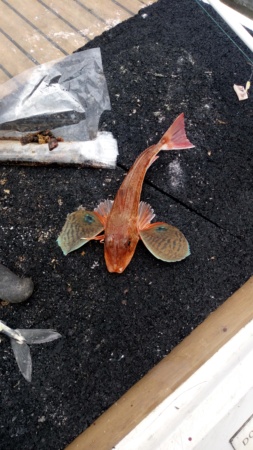 PLENTY OF REDS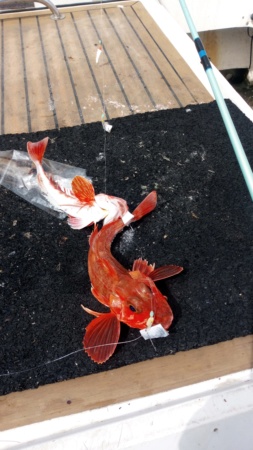 GREY GURNARD DOUBLING UP WITH THE HADDOCK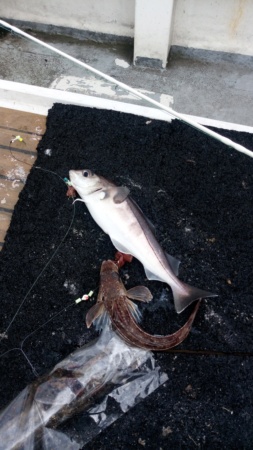 A SMALL TOPE
MICHAEL EMERYS THORNY
THE SPURS ARE IN